The one bottom line about any business is money, specifically your money. Regarding real estate services, how much you get to keep (home equity) versus the cost of services you pay to sell your home is the question we will explore.
A while back, the Texas Association of Realtors created this informational flyer to alert consumers about instant offers from companies like Opendoor, Offerpad, Zillow®, and similar companies. Opendoor was also recently sued by the FTC.
What is Real Estate Buy-outs?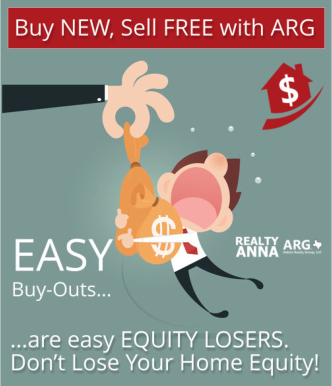 Real Estate "Buy-outs" are nothing new. Over the years, many have come and gone. Some Realty businesses will even offer to buy your home if they can't sell in so many days as a hook to get your business, knowing that nearly no seller would ever agree to a buyout with them if they can't sell your home in the allotted time.
Today in DFW, you can inquire about getting your home "purchased" based upon an inspection, a market report, and then an offer. Selling your home becomes super-easy if you get a number that reflects anything close to actual market value, but don't be shocked when you see the real net proceeds statement that will include a list of itemized expenses that will reduce the size of the equity check you walk away with at closing.
There are no free lunches, especially with the convenience of a fast buy-out. Businesses that buy out homeowners must account for their projected business expenses for flipping your home. Yes, and it will be you who pays for this. In the end, the extra expense of a fast buy-out will make paying 6% look like the bargain of the year, but you can still do better than 6%.
ARG™ OFFERS YOU MAXIMUM HOME EQUITY RETENTION WHEN COMPARED TO A BUYOUT OFFER
Let's use a recent example involving ARG™, who was being compared with a "Buy-out" offer. This family was selling their pre-owned home and upgrading to a new home. After comparing a popular buy-out offer, this family chooses to sell and Close their former home using ARG's "Free" Move-up solution. Why? Well, my client's net out-of-pocket commission cost to sell their home using ARG was $0/0% (they saved all 6%) as long as they closed escrow on their new home, which they purchased with ARG as their buyer agent (which they did.)
The "Easy Buy-out" broker cost amounted to losing ~$45,000 up to $54,000 (10% – 12%) of their home's selling price! That is pure equity sellers hand over for the convenience of a fast sale (OUCH!). For this family, who needed every penny to put down on their new home, the convenient "easy-buy-out" was not a feasible financial option, nor was paying 6%. For them, like many move-up sellers in DFW, when they do the math, ARG™ offered a far better home equity retention option.
And when our clients added critical upgrades, typically including kitchen, master bath, general repairs and paint, the money they spent getting their home ready to list, easily produced double or triple their pre-listing budget outlay. This helped to increase the size of their retained home equity check. Why not become your own middleman and boost the net proceeds of your own home sale instead of giving it away? ARG, as your longtime trusted partner, rows in the same direction as you to help you earn your best equity check, versus giving it away.

The Fast Buy Out, You Pay for Convenience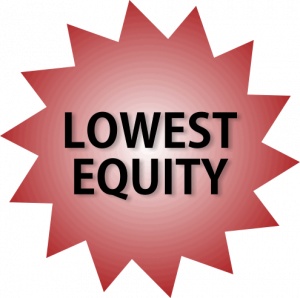 Here is what a "Buy-Out" must include before you can understand the size of the check you'll get when you close your sale.
Repairs performed by the seller or net sale price is reduced to compensate
Carry Interest to cover several months where the buy-out broker owns your home
hazard insurance: Typically, unoccupied homes cost more to ensure
utilities (electric, gas, water, sewer, garbage collection)
repairs and upkeep that may occur
landscaping and yard maintenance
house cleaners
property taxes
re-marketing/MLS costs to Sell
Business administration costs
marketing and advertising
Money owed investors
THE ARG DIFFERENCE IS IN THE MONEY YOU SAVE
ARG's™ New Home Move-up can get your listing commission as low as $0, where you save all 6%. That can help you manage a small repair budget much easier as you prepare your home for sale. With ARG, you earn the maximum equity possible due to our amazing services and DFW's best Free-Move-up. The fact is, next to paying off your mortgage balance, the brokerage commission is your next largest expense, and with ARG, that expense is greatly reduced or even eliminated.
Depending upon the new home builder, Commission costs start at 0% (FREE) to a 3% Maximum.
If buying an existing home through ARG, you pay 3% to sell your home. ARG retains its buyer commission on the home you buy.
Full Client MLS Realtor Services provided, Internet and Social Media marketing, complimentary staging advice, and contractor referrals if you need it.
Costs involved with getting your home cosmetically ready to sell will raise your selling price considerably. Normally, fix-up costs can be fully recuperated, but in most cases, sellers can expect to recover 200% to 300% of their fix-up budgets.
The seller must maintain a show-ready condition.