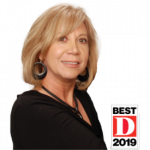 Jenee Askins
Realtor/ Home Staging/Valuation Specialist
A little bit about Jenee
Jenee is a native Texan and original partner in Askins Realty Group, LLC. In 2001 Jenee got her real estate license and began her real estate career as an Apartment Locator. After approximately 5 excellent years as an Apartment Locator, Jenee slowly integrated into ARG's residential real estate activities in 2005.
Jenee is a skilled pre-listing "Stagger" and is responsible for many home transformations needed to conclude a successful sale. Jenee is one of the most careful, patient, thorough and accurate MLS COMP report agents in the business. She can find value, offer cost-effective contractor referrals to boost value and provide options you might not have considered.
Together the team of Mike and Jenee have formed one of the highest producing Realtor teams in North Texas having earned "Platinum Producers" from D-Magazine in 2013, 2014, 2015,2016, 2017, and 2018!